How the Veestro Website Works
The process for getting foods from Veestro is very easy for anyone to follow:
To start, you choose the foods through the Veestro program. You can opt to go with a la carte meals or meal packs as well as the weight loss and juice cleanse options.
All the meals are then prepared before they are sent out to your door. With Veestro, the meals you order are created by chefs and made to be ready to send out to your doorstep. This is all made with secure eco-friendly packages.
To get your meals ready, you can just heat them up without having to cook anything else.
Veestro has made the process of getting fresh vegan meals out to your easy to follow. The site even offers information on how each food is prepared and the nutritional information for each meal available. These points help you with getting great meals ready so you can get the most out of whatever you might be interested in having.
What Makes Veestro Unique
Veestro is clearly unique for how it focuses on a vegan-exclusive plan for preparing meals. This is very different from what people might expect when getting their recipes ready. Veestro concentrates on offering gluten-free and preservative-free meals with organic ingredients. Everything is picked by hand and supported by organic partner farms. This is all to ensure that the foods you order are made to work well and be easy to enjoy.
Foods Available
Veestro organizes its meals in many categories. Each of these categories shows that you can get some great meals available at any time of day:
Breakfast: Start your day off with great breakfast options from Veestro. Order the omelet primavera, Spanish torta, oatmeal breakfast pie or three layer scramble among other choices.
Entrees: The entrees for sale include red curry with tofu, the enchilada casserole, veggie empanadas and veggie lasagna among others. The entrees are made with great quality vegan ingredients in mind.
Soups: The soups available from Veestro vary throughout the year. You can find tomato lentil soup and quinoa soup among other choices for sale through Veestro.
Desserts: The desserts offered include raspberry "Cheezcake" made with vegan alternative ingredients and the chocolate chip cookie cake.
Juices: The juices available through Veestro include choices with many healthy organic ingredients in mind.  The Keep the Doctor Away drink features cucumbers, apples, ginger root and pears. The Power of the Tropics has pineapples, apples, ginger and carrots. Spring Into Action has pineapple, basil, oranges and celery all mixed in. All of these drinks are easy to enjoy and add into your diet.
All of these foods are attractive for all to have. You can find various foods throughout the year as Veestro regularly adds new foods into its roster of entrees.
Veestro Menus Offered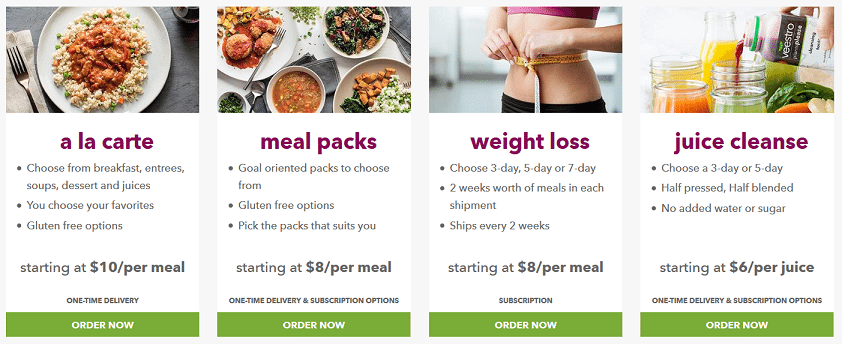 There are four menus that you can choose from:
A La Carte: The one-time delivery system from Veestro lets you order individual meals of all sorts. The meals available include all kinds of options throughout the entire Veestro menu.
Meal Packs: You can choose to get a meal pack with one of many different themes in mind. You can find meal plans that include up to three meals per day for seven or more days at a time.
The meal packs offered by Veestro include several popular options:
The Starter Pack offers ten meals and one juice at the start.
The 21-Day Kickstart provides you with enough foods to help you get going on a healthy dietary routine.
The Protein Pack includes high-protein vegetables and other ingredients for the added energy you require.
The Gluten-Free pack features all gluten-free entrees that are safe for people with sensitivties to gluten to enjoy having.
The Lunchbox Pack offers easy to prepare foods that you can enjoy anywhere, thus giving you an easier time with getting your meals ready.
The Wedding Prep meal pack is popular for those who are looking to get in shape so they can look their best for this big day. Ideal for the bride or groom alike, this offers lunch and dinner meals for thirty days.
The Kosher Pack focuses on many kosher certified meals with some gluten-free options included. There are 28 meals included in this plan.
Weight Loss: The weight loss packages available include three, five and seven-day plans with regular and gluten-free options available. The packages focus on all meals in the day and provide you with around 1,200 calories per day on average. This offers a simple plan for helping you to lose weight and stay healthy.
Juice Cleanse: The juice cleanse program includes three and five-day programs. The program entails three or five of each of the different juices that Veestro has to offer. This can be useful for your individual weight loss needs, but the program does especially well with any Veestro packages you already use for your demands.The juices offered are always packaged in secure bottles. You can get them chilled so they will be refreshing and easy to enjoy when you are ready to have them.
All of these menus are available for one-off orders but you do have the option to get recurring packages sent out to you.
Veestro Costs
The pricing for individual meals will vary based on the program you want to get into. The A La Carte program charges around $10.99 on average for most of the individual entrees you can get. The cost for individual soups and desserts is around half that total in most cases.
For those who order particular plans, people can expect to spend around $250 or more on their offers. Many of these meals are available for $8 to $10 per meal although the standards for what people would spend here. Those who get more meals will end up spending less money per meal.
For the weight loss packages, people can expect to pay $209 for the three-day option, $279 for the five-day program and $349 for the seven-day plan.
The juice cleanse is available for $119 for a three-day program or $180 for a five-day plan.
Take advantage or coupons below for further savings!
Veestro Coupons
$60 OFF First 4 boxes + Free Shipping
Expires: Limited Time Only
$60 OFF First 4 boxes + Free Shipping
Expires: Limited Time Only
Take 25% Off Orders
Expires: Limited Time Only
Take 25% Off Orders
Expires: Limited Time Only
Take 10% off Sitewide
Expires: Limited Time Only
Take 10% off Sitewide
Expires: Limited Time Only
15% Off La Carte Breakfast, Entrées, And Dessert
Expires: Ongoing
15% Off La Carte Breakfast, Entrées, And Dessert
Expires: Ongoing
25% off Starter Packs! (10 Meals, 1 juice & Free Shipping - Only $99!)
Expires: Ongoing
25% off Starter Packs! (10 Meals, 1 juice & Free Shipping - Only $99!)
Expires: Ongoing
Free Shipping on Orders of $199 or More!
Expires: Ongoing
Free Shipping on Orders of $199 or More!
Expires: Ongoing
Share Veestro with a Friend. They'll Get a 15% Coupon, When They Order You'll Get One Too!
Expires: Ongoing
Share Veestro with a Friend. They'll Get a 15% Coupon, When They Order You'll Get One Too!
Expires: Ongoing
10% Off Sitewide
Expires: Ongoing
10% Off Sitewide
Expires: Ongoing
Recurring Orders
Be advised that many of the orders you can place through Veestro include recurring orders. These are ones that would entail getting new orders billed and shipped out every two to three weeks. You have the option to opt out of the shipping plan, but you would have to send a proper request to Veestro within enough time so you can get out of your program.
You also have the option to select a one-time order to keep yourself from having to get recurring orders. But if you do wish to utilize the latter, you can get a 5 percent discount on your shipments as you get your meals out to your address on a regular basis.
Shipping Charges
Shipping is always free for orders of $199 or more. It costs $19 or more for shipments below that total. Residents in California can pay a flat rate of $12 for shipping on anything sent out to that state as long as the order is $198 or lower in value.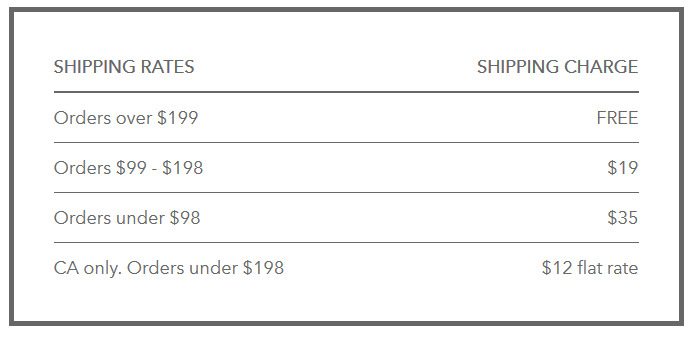 The timing for getting shipments will vary based on where you live. As the factory is based out of California, you can get your shipment out in one day if you are in most parts of the state. These include the southern parts of California. It would take two to four days to get a shipment out to other parts of the country with those on the east coast needing more time to get their shipments out to them.
Where Veestro Delivers
Veestro ships its products out to most parts of the United States. It does not have any shipping options for Alaska or Hawaii or Canada at this moment.
You would have to get your shipment sent out to a proper street address to get everything ready. You would not be able to get your shipment out to a post office box, what with the packaging being relatively sizeable. Fortunately, everything available is fully insulated to give you the most out of the foods you want to get.
What About the Packaging?
The packaging used for all the meals Veestro offers is made with eco-friendly materials in mind. These are properly secured and covered to keep all the foods intact. You only have to heat the meals as required to get them ready for your use. But you should still keep everything chilled before you prepare the foods so everything you have is fully ready and easy to enjoy as soon as you can get it prepared well enough.
Special Discounts
You can get a 10 percent discount on your first order with Veestro when you sign up for email messages. These messages will provide you with details on the newest foods available for use through a service.
Is This For You?
Veestro might prove to be the best option you can use for your healthy eating needs if you are looking for great and unique vegan meals delivered to your door. Veestro is ideal for when you need to get started with a healthy eating routine while also focusing on organic and easy to enjoy meals. Take a look at all the great things that are available for sale through the site.
Veestro works well for when you need to get good meals ready within a certain period of time as well. Those who are planning on getting married can benefit from what Veestro has to offer in particular. Be sure to check out what Veestro has for when you are trying to get something healthy and worth enjoying in your life, especially if you need a bit of extra help with getting ready for a big event that might be coming about in the future.