About Diet-to-Go
Diet-to-Go is a program catering to people who want to lose weight and eat healthy. Meals include an assortment of healthy, tasty foods that are prepared fresh and never frozen. Sticking with a Diet-to-Go program will get results for people who want to shed pounds, and the high-quality food makes it easy to stick with it.
In fact, online food magazine Epicurious rated Diet-to-Go No. 1 for taste when stacked up against similar diet meal plans.

Diet-to-Go also wins the DietFoodDeliveryService.com best overall Diet Food Delivery Service.
15% off Your First Week
Expires: Ongoing
15% off Your First Week
Expires: Ongoing
10% off Your First Week
Expires: Ongoing
10% off Your First Week
Expires: Ongoing
Quick Background on Diet-to-Go

Diet-to-Go was founded in 1991 in the Washington, D.C. area with the goal of providing customers with healthy meals that were convenient and took the thinking out of losing weight. To this day, its staff is devoted to providing busy, on-the-go people with meals that not only help them lose weight, but taste good too, so that reaching weight loss goals is a cinch.
From day one, meals were prepared with fresh ingredients, sourced locally, never frozen and with unique flavors that keep boredom at bay. The company has an entire team of nutritionists, health coaches and chefs dedicated to making sure the portion-controlled meals taste delicious and that each customer gets a customized plan that will help them reach their individual goals.

How to Order from Diet-to-Go
Diet-to-Go's website makes ordering meals simple. Customers can enter their information and goals in Diet-to-Go's Free Diet Analysis to determine what plan works best for them — the 1,600-calorie plan, the 1,200-calorie plan or the low-carb plans. They can then select one of Diet-to-Go's three menus:
Along with the variety, meals taste great, too. Epicurious ranked them No. 1 for taste, beating out Nutrisystem, Jenny Craig, Biggest Loser and other similar diet meal programs.
Menus come on a five-week rotation to ensure variety. Customers can also customize menus based on their individual preferences on Diet-to-Go's easy-to-use online portal myDiettogo.
Diet-to-Go offers many convenient ways for customers to get their meals. They can be delivered anywhere in the continental U.S. The company also partners with fitness clubs in many major metros — including Washington, D.C., Baltimore, New Jersey, San Francisco and L.A. — where people can pick them up fresh twice a week. Diet-to-Go also recently launched fresh, same-day delivery.
Because Diet-to-Go meals are controlled for portions and calories, both men and women can lose weight, typically 2 to 3 pounds per week, without exercise, just by sticking with the plan.
What Foods Are Available on the Diet-to-Go Program?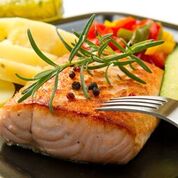 Diet-to-Go's team of chefs and nutritionists prepare meals with the utmost care. Ingredients include fresh, lean meats, organic vegetables and whole grains, all sourced locally whenever possible.
The USDA monitors all foods prepared at Diet-to-Go. Foods also adhere strictly to nutritional guidelines set by top health organizations, such as the American Heart Association, American Diabetes Association, American Cancer Society and others.
Meals will arrive in separate packaging. Side items are also typically packaged separately. Portions in each meal are carefully measured, which also helps teach people about the proper amount of food they should be eating at each meal.
Diet-to-Go's most popular meal plan is its Balance menu. The menu includes two calorie plans:
1,200-Calorie Plan: This plan typically works best for women who want to lose weight quickly and naturally.
1,600-Calorie Plan: This plan typically works best for men, or for athletes or people who are extremely active.
The free diet analysis helps customers choose which calorie plan is right for them.
Enter here to read about the  Changes & Improvements for the Diet-to-Go Menus, Options, and Company  Structure for 2017
Will There Be Results?
Yes. Studies show that Diet-to-Go customers can expect to lose 1-2 pounds a week. The average customer loses 10 pounds in the first 30 days on the program. Besides providing healthy, convenient pre-portioned meals, Diet-to-Go's on-staff health coaches work closely with customers to create a personalized weight loss plan. The company even shares real customer success stories to showcase just how easy the plan is.
How Diet-to-Go Delivery Works
Diet-to-Go meals are cooked fresh and shipped out twice weekly. Meals will arrive at customers' doorsteps in a large cooler, packed with dry ice to ensure freshness. Diet-to-Go delivers anywhere in the continental U.S.
Diet-to-Go Also Offers Fresh Local Pickup
Diet-to-Go offers fresh pickup in the Washington D.C. metro area (including Northern Virginia and Suburban Maryland), Baltimore area, New Jersey, San Francisco Bay area (including East Bay) and the greater Los Angeles area. Fresh local pickup providers include Gold's Gym, Walgreens, Every Body Fitness, and many, many more.
How Does Diet-to-Go Taste?
The short answer? Delicious. Epicurious, Very Well, Next Advisor, CalorieLab and countless bloggers can't be wrong. They all tried Diet-to-Go meals, and all had similar things to say: the food is packed with flavor, there's plenty of variety and they taste delicious. Plus, Diet-to-Go meals can be heated in a microwave or oven with little to no effort, making them a great option for busy, on-the-go people.
How Much Does Diet-to-Go Cost?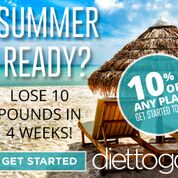 Diet-to-Go makes healthy, convenient eating affordable. Most meals on the 1,200-calorie plan cost around $8 a meal, which is cheap compared to the average cost most people spend eating out. According to the U.S. Bureau of Labor Statistics, the average individual spends $15 when ordering takeout for dinner. For the full, seven-day, three-meals-per-day plan, the cost would be $173.99 plus shipping. For the five-day meal plan, the cost is $137.99 per week.
Meals on the 1,600-calorie plan cost around $9 a meal. The full, seven-day, three-meals-per-day plan cost is $191.59 per week, plus shipping. The five-day plan is just $146.99 per week.
SAVE 15% WITH A DIET-TO-GO COUPON HERE
The Carb30 and Vegetarian plans cost about the same.
Conclusion
Diet-to-Go works well to accommodate people who have a high-demand schedule and are always busy and need a seamless, convenient way to lose weight.
From its website, to customer service, to social media channels, Diet-to-Go makes ordering quick and simple. The quality of the meals, and the fact that menus can be customized, means it's easy to stick with the program and for customers to eat healthy and meet their weight loss goals.