How Blue Apron Works
You can use Blue Apron by following these simple steps to get the most out of your dining experience.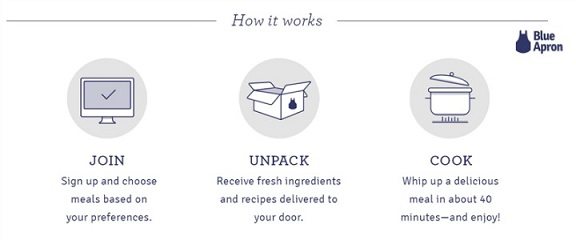 First, choose from a series of recipes– The site offers different recipes every week. These include recipes designed by professional chefs who also offer proper instructions on how to prepare the foods correctly.- Simply send Blue Apron your dietary needs. You can list information based on the meals you want and to ingredients to be used. Blue Apron will also assist you with finding recipes that you can choose from to give you more out of the meals you are going to enjoy.
Second, choose seasonal ingredients – Each ingredient is properly wrapped and secured. They are sorted out based on the foods that you want to enjoy. Everything is organized well enough to ensure you get the most out of your dining experience while keeping the foods arranged well enough.- You will have to prepare your shipping date to ensure you can get it on time. This is to help you with figuring out the right time for when you can get your meal sent out to you.
Third, Prepare the meals on your own– You will use the ingredients you get from Blue Apron and the appropriate instructions to help you prepare.- The instructions  provide you with enough details including how to mix ingredients carefully including pictures.
Last, enjoy a fine meal– The process for getting a meal ready through Blue Apron will vary based on what the recipe entails. The company does well with helping you to get your meals ready the right way.
What Blue Apron Provides
Blue Apron will provide you with the necessary materials required for getting the most out of your recipes. To start, it offers farm-fresh produce that varies by season. The produce is always carefully farmed and offers a good mix and is grown under no-GMO standards.
The meats that are offered are organically raised. There are no added hormones in any of the meats available.
The seafood is also prepared through sustainable practices. These include processes for ensuring that the seafood is made quickly available.
Each ingredient is carefully sealed and measured to fit your serving needs. You will also get a series of recipe cards depending on what you have ordered. These provide you with details on how to get these foods prepared.
What Makes Blue Apron Unique?
Blue Apron works by providing a dynamic system for making it easier for foods to be prepared well enough. To start, Blue Apron gets its produce not only without GMOs but also with regenerative farming in mind. The menus are organized based on the crop rotations that local farms are working with. This keeps farmers from being overly reliant on pesticides and other dangerous compounds. Also, the team has partnered with more than 150 farms to help with getting all those foods ready.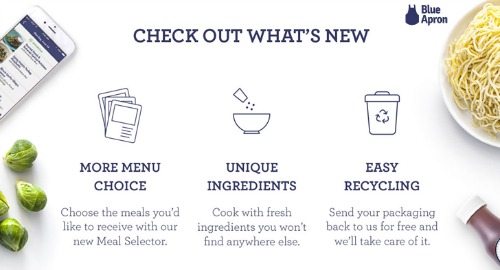 In addition, Blue Apron focuses on getting the healthy and fresh ingredients for your recipes directly to you. The problem with obtaining ingredients for most needs is they go from the farm and then move through a wholesaler, who then gets it out to a regional grocery warehouse and then to a grocery store before you can actually enjoy it. With Blue Apron, all those steps are eliminated. You instead just have to get your items ordered through Blue Apron and then get the foods prepared well at your home. All the foods you get will be much easier to enjoy thanks to how well they are sent out to you.
In fact, the process used by Blue Apron ensures that you will avoid problems relating to food waste. You will enjoy a great meal without worrying about spoiled foods because everything being grown is organized well enough, thus giving you the great taste that you are surely bound to enjoy having.
Recipes Offered
Blue Apron divides its recipes up into two and four-person recipes. These are organized based on how many people can be served through these particular entrees.
The meals are organized into various different forms for different dining needs. These include meals available for the Mediterranean diet, options that can be prepared in 30 minutes and some options that have been voted upon by customers as their favorites.

You can get beef and mushroom stew or pan-fried chicken with zucchini when finding two-person recipes. Mexican-spiced pork, chili stir-fry and crispy catfish are all good meals to check out when seeing what Blue Apron has to offer.
For four-person recipes, you can get options like beef Bolognese and hoisin chicken steam buns with sesame carrots. Cincinnati-style chili with white cheddar cheese is also available.
You can learn more about the foods available through Blue Apron by reviewing the cookbook on the official Blue Apron website. This includes information on foods based on their main ingredients, the type of cuisine that a recipe is based off of and even any seasonal recipes. Be advised that not all of these meals are available throughout the year.
Additional Tools Available
Blue Apron also provides you with enough help for getting your meals prepared by offering extra help with different kitchen tools. You can order various kitchen tools through the site including ones that are recommended by Blue Apron for individual recipes. These include pans, knives, stock pots, prep bowls and much more. These are all convenient for your cooking needs, but they will cost extra to get. They are still optional in terms of what you can use.
You can also get video tutorials on the Blue Apron website to see what you can do for making your recipes work out right. These videos include how to prepare vegetables right or how to peel certain foods correctly.
The site even offers wine pairings that work with particular meals. These pairings are popular for offering great tones and scents that mix in well with the foods you order. You can get six wines delivered to you every month, but that will cost extra to utilize. Also, this option for added service might not be available where you live depending on the laws surrounding what you can do in a certain area.
Some of the extras available through Blue Apron include  added ingredients that are often recommended to give you an extra bit of flavor in your meals. You can get organic extra virgin olive oil and bold tellicherry peppercorns that you can grind yourself. The things that Blue Apron offers are made to give you something extra to your meals, but be advised that all of these added ingredients are sold at a high premium. Of course, these are still made with organic ingredients while also keeping everything fresh as the middleman is eliminated.
Independent Blue Apron Reviews
Blue Apron Costs
You will have to get specific information on what it costs to use Blue Apron's services depending on where you live. The typical cost for a two-person program entails a cost of $59.94 per week. This is for three meals per week with enough to serve two people in each meal.
The four-person program from Blue Apron costs $139.84 per week for the same three meals in a week. This goes for a little more than a dollar less per week per person when all is considered. But again, you should look at the foods being offered to see if what is being offered in your plan fit in well for your desires.
The cost varies based on where you are getting your foods shipped out to and when they will be sent out. Blue Apron does well with reviewing many factors relating to the shipment process, so be sure to look at the standards that are to be followed when getting your foods out to your property.
The pricing for other things offered by Blue Apron should be reviewed as well. It costs $65.99 per month to get six bottles of wine delivered to your home. Again, you might not be able to take advantage of this offer depending on where you live.
Get $30 Off Today By Clicking Banner Below

Blue Apron Coupons
$50 Off Your First Two Boxes!
Expires: Ongoing
$50 Off Your First Two Boxes!
Expires: Ongoing
$40 Off Your First Month of Blue Apron!
Expires: Ongoing
$40 Off Your First Month of Blue Apron!
Expires: Ongoing
3 Meals Free on Your First Blue Apron Order
Expires: Ongoing
3 Meals Free on Your First Blue Apron Order
Expires: Ongoing
$30 Off Your First Blue Apron Order
Expires: Ongoing
$30 Off Your First Blue Apron Order
Expires: Ongoing
Blue Apron Packaging
The packaging offered by Blue Apron ensures that your meals will be fully protected when they come out to you. Each shipment comes in a refrigerated box to ensure that your foods are fresh when they get to your home.
A box will come with foods that are individually sealed and wrapped. Each item being offered is prepared to ensure that the foods you have are organized well and are easy to enjoy without flavors being mixed prematurely.
Be advised that any box you collect should be secured in a chilled environment if possible. This is to keep the ingredients protected before you get them ready.
Blue Apron Delivery
You can get the foods offered by Blue Apron out to your home with ease. All the ingredients offered are packaged carefully so they can get to your property intact without being damaged like what might come about when you find produce and other ingredients at a traditional supermarket.
Like with any other food delivery service, you would have to ensure your meals are sent out to your home and not to a post office box. Blue Apron does not ship its foods out to PO boxes.
Is This Right For You?
You will benefit the most from Blue Apron if you are interested in preparing your own foods and you want a more hands-on approach to cooking. More importantly, Blue Apron will be great for you if you are looking for a food preparation and delivery service that offers a simple setup for helping you get the most out of your meals.
Blue Apron is great if you want to get quality dinners that are detailed and offer only the finest ingredients made with quality standards in mind. The foods you can prepare from Blue Apron are all made with strong fancy restaurant-quality standards to ensure that everything is fresh and has a good tone to it all. Take a look at what is available through Blue Apron if you want an option for dining that is great to have.