Nutrisystem provides people with many types of food for all of their weight loss needs. These include entrees for all parts of the day as well as bars, shakes and boosters.
The company offers all of these foods in a variety of programs which are tailored for men and women as well as a special program for diabetics.
How to Use the Nutrisystem Website
While Nutrisystem offers its products by phone or through mail-order, its official website is much more effective for individuals to search.
In a few simple steps you can get an order placed:
Figure out the particular plan you want to use. Nutrisystem has many plans available for all sorts of dietary needs. You can choose a vegetarian plan or a diabetes-control plan among many others.
Choose the particular foods that you want to enjoy in your diet. You can work with a custom menu that lets you opt for certain meals that you can enjoy at different times of the day. Those on the Basic menu will be given a series of popular meals that are among the favorites offered by the company.
You can then get the meals out to your door. You can plan a time for when you can get your shipment sent out to your home. You can get this ready a few days before your shipment is scheduled to head out to your property.
You will have to prepare each meal as needed. Some of the entrees can be chilled and then heated while others require a bit of mixing. Some foods are also ready to eat. Whatever it is you plan on enjoying, you can easily prepare the meals provided you consume them at the appropriate times based on the rules and points that the company lists.
What Makes Nutrisystem Unique?
Nutrisystem is unique for how it tailors its meals to your particular needs. It includes foods that focus on the glycemic index. The program looks at how the body manages its carbohydrates and blood sugar. By working with the appropriate foods on the GI, it is easy for people to consume the right foods at the times they need them the most.
You can start with a healthy breakfast bar and have a shake as a quick snack. You can get a good light lunch off of one of the soups or other light entrees offered by Nutrisystem. An afternoon snack lets you feel a little more comfortable with your weight loss efforts. Enjoy a nice dinner you can heat up and then take in a fine snack at the end of the day. The full organization of what Nutrisystem offers is vital for ensuring people can get the most out of their dietary demands.
Nutrisystem Meals Offered
One of the more popular parts of Nutrisystem entails the extensive variety of meals that people can get. Nutrisystem has various meals for all times of the day.
Breakfast: Nutrisystem has chocolate muffins, buttermilk waffles, granola cereal and even a turkey sausage and egg muffin. The lunches available include hamburgers, chicken sandwiches, tuna salad and pizza melts.
Dinners: Include a mix of non-frozen and frozen choices. People can enjoy frozen options like a meatloaf sandwich or chicken and bacon ranch pizza. Non-frozen items include pasta entrees like ravioli with meat sauce.
Desserts: Find some attractive choices that fit in well with your dietary requirements. You can get white cheddar popcorn, orange cream bars and chocolate cupcakes among other options.
You can also order shakes in a few different flavors. These shakes are easy to prepare at home and provide you with healthy nutrients that you can enjoy while on the go. These shakes are perfect when you need extra help losing weight and with keeping yourself focused on your goals.
Nutrisystem's food menu is extensive and features various choices for all people to benefit from. The menu frequently rotates throughout the year, but you should be able to select most of the foods you can get depending on the program you are in and even select those options based on what is suitable for a vegetarian diet, a diabetes-friendly diet or even frozen choices.
Turbo Takeoff
The Turbo Takeoff Program is where you will focus on meals during the first week of the program that concentrate on improving upon your metabolic rate. This helps introduce you to the Nutrisystem program. Be advised that Nutrisystem automatically determines the meals that will be offered in this part of the program.
Nutrisystem Meal Plans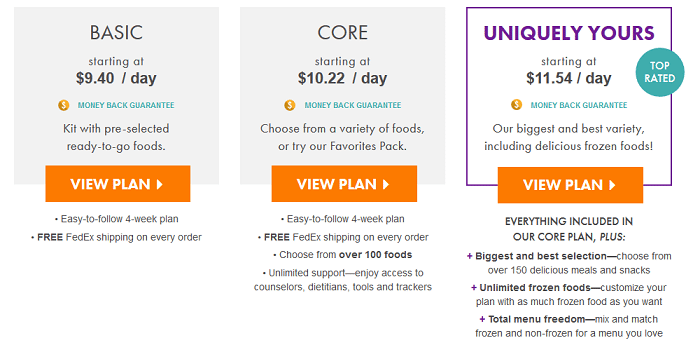 The plans that Nutrisystem offers are all unique for how well they are organized. You can choose to get the Basic program for a four-week plan with meals delivered to your home. This works with free FedEx shipping and free online tools to help you track your progress. You can even use a mobile app to review how well you are capable of losing weight.
Nutrisystem Costs
Nutrisystem sets up its pricing for its programs by the day. You need to stick with a four-week plan for each order, but the total cost associated with the program is rather reasonable starting around $10 per day.
The programs go up in value with some totaling around $12 per day. The important point is that you can get more meals through certain programs or added services, thus adding to the overall value that Nutrisystem offers.
People who use the system will automatically renew their plans after each four-week plan is finished. You will have to make a request if you wish to cancel. The customer service department with Nutrisystem does very well with helping people to enter into and out of the program as necessary.
A La Carte Service
You can also use the a la carte service offered by Nutrisystem. This is ideal for when you need an extra meal for a certain period or if you are looking to get another person to enter into the program with you. Various frozen foods are available through the a la carte section of the Nutrisystem website. You can also search for foods through this part of the site based on the particular desires you might have. Not all foods from the service are available online so be sure you look around to identify what might be intriguing for a la carte use.
Guarantee Offer
The guarantee offer provided by Nutrisystem helps people with getting the most out of their dietary requirements. You can contact Nutrisystem within the first fourteen days of your first program if you are not satisfied with the service. You can send the unused food back for a full refund minus shipping.
Nutrisystem Special Deals & Coupons
You can also take advantage of various deals that Nutrisystem has to offer. These include special deals where you can get a certain amount of food for free with your first order. These deals often require promo codes, but Nutrisystem typically lists information on those codes directly on its site. Also, most of these codes are good only for one's first order.
Get 40% off Every order plus Turboshakes and Fedex Shipping Free
Expires: Ongoing
Get 40% off Every order plus Turboshakes and Fedex Shipping Free
Expires: Ongoing
Get $25 off your first two orders + free bars & shakes and FREE SHIPPING!
Expires: Ongoing
Get $25 off your first two orders + free bars & shakes and FREE SHIPPING!
Expires: Ongoing
40% off The Diabetes Plan + FREE BARS & SHAKES + FREE FEDEX SHIPPING!
Expires: Ongoing
40% off The Diabetes Plan + FREE BARS & SHAKES + FREE FEDEX SHIPPING!
Expires: Ongoing
Lose Up To 13 LBS & 7 Inches overall in your first month with Turbo13 + FREE BARS & SHAKES + FREE FEDEX SHIPPING!
Expires: Ongoing
Lose Up To 13 LBS & 7 Inches overall in your first month with Turbo13 + FREE BARS & SHAKES + FREE FEDEX SHIPPING!
Expires: Ongoing
$25 Off Uniquely Yours
Expires: Ongoing
$25 Off Uniquely Yours
Expires: Ongoing
$20 Off Any 4-Week Plan
Expires: Ongoing
$20 Off Any 4-Week Plan
Expires: Ongoing
Where Nutrisystem Delivers
Nutrisystem delivers its foods to most addresses around the United States. This is convenient but it is best for people to get their packages accepted as soon as possible. This is to ensure one's package is opened quickly and that the foods are brought in before they could potentially be impacted by weather.
You may also collect your Nutrisystem foods at one of the company's various offices around the country. You would have to check online to see where the nearest spot might be though. Nutrisystem does have a program with Costco to help members with getting the foods delivered out to your specific retail store's location.
Account Management
Those who have accounts with Nutrisystem can take advantage of great account management functions to make it easier for them to stay healthy and to keep on the diet. The account management tools allow you to plan out your meals for future orders. This includes looking at what you can get shipped to your home and when you can consume specific meals at certain times. The system offered by Nutrisystem makes it easier for you to get a great plan for weight loss up and running.
Nutrisystem Customer Service
The final thing to see regarding Nutrisystem entails its customer service team. Nutrisystem has a strong customer service base with live chat help available during most parts of the day. A full FAQ section is also included on the main site. The details listed here ensure that people can get more out of their meals while answering various concerns that people have about the Nutrisystem plan.
Is This For You?
Nutrisystem will be ideal for your weight loss needs if you need extra help with getting more out of your efforts. Nutrisystem has a great program that works with healthy foods that are easy to review and prepare. The variety of foods you can get makes it worthwhile as well. The added assortment of programs available also helps people with getting their weight loss efforts in check. Be sure to see what this meal service provider can do for you when looking for assistance with getting rid of those extra pounds.