How to Order from Healthy Chef Creations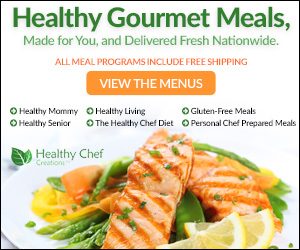 Healthy Chef Creations's website makes ordering meals simple. Customers can order each item separately from the extensive menu, or choose a meal plan to meet their needs. These include
The Healthy Living Plan offers healthy foods for a healthy lifestyle. It provides meals for singles, couples or even families, adjusted to everyone's tastes and preferences.
The Healthy Chef Diet is the most delicious easy way to lose weight. Calorie controlled meals help you take off the weight with all the ease of reheating, the health of natural ingredients and the preferential treatment of a personal chef.
The Gluten-Free Meals have the same variety and quality as all the other meals, without the wheat or gluten.
What Makes Their Diet Plans Unique?
The great part of Healthy Chef Creations is that it focuses on various unique meals that are individually prepared. You have full control over the foods that you wish to order as the selection of foods you can opt for is extensive and diverse.
To enjoy great meals from Healthy Chef Creations, you just how to select individual ingredients and foods that you are interested in. This is a very simple and easy to use plan that gives you more out of what you want to enjoy.
Everything is also fresh and fully cooked. It is never frozen, thus ensuring you will have foods that are healthy and easy to enjoy.
How Does The Ordering Process Work?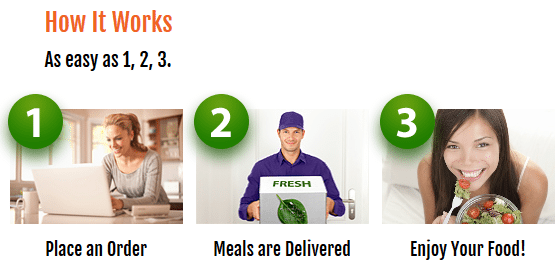 The process for ordering is easy to follow. First, you just have to place your order by looking through the extensive program options that you can choose from.
You have the option to stick with one of many plans with each one catering to particular dietary needs. You also have the choice to select individual meals. You could even choose to omit certain foods based on dietary or allergy needs. With hundreds of different meals to choose from, you have plenty of options to stick with when finding something that is suitable for your dietary demands.
After this, your meals are delivered to you. Just select a specific delivery date for the foods to come in. All meals in your plan come fresh and are never frozen.
You then enjoy your foods based on the proper schedule for consumption. Everything is oven and microwave-safe and is in BPA-free containers, thus ensuring you will not consume any added chemicals that might get into your food. This is simple and easy to prepare and gives you a great experience for your dining needs.
You will also get foods for all times of the day. These include not only the main dishes for the day but also side dishes, desserts and snacks. Detoxification drinks and shakes are also available. You have the option to choose from many items that are intriguing and useful.
What Foods Are Offered?
The foods available include options for all times of the day. Enjoy fresh omelets for breakfast, pitas or salads for lunch and chicken or beef entrees with healthy grains for dinner. Order healthy whole grain snacks for dessert or energy drink shakes. The options available for your use are extensive and offer some brilliant choices you are bound to enjoy. The fact that you can customize your order in any way to see fit makes for something all the more attractive and ideal for your use.
Why You Should Buy Their Meal Plans
The meal plans offered by Healthy Chef Creations are detailed and filled with foods that are designed to help you maintain your body or to possibly lose weight. With Healthy Chef Creations, you have more control over your weight loss efforts as you have strong foods that are easy to enjoy and made with only the best ingredients. Everything is fully customizable and easy to adjust as well, thus making for ideal foods you know are suitable for your general weight loss requirements.
Individual Plans
Healthy Chef Diet is a Mediterranean-style diet that focuses on portion control and balanced nutrition. The plans you can choose from when using the services of Healthy Chef Creations include the following:
Healthy Mommy plan is for new and expecting mothers. It entails proper foods that support neonatal and nursing functions that any mother requires.
Individual Healthy Living programs are included with some offering breakfast options. You have the option to choose a plan that features either a breakfast or no breakfast involved.
Gluten-free programs are also included. This solution focuses heavily on getting proper foods that do not contain gluten or other allergens, a point that is essential for many who have certain food allergies.
What Does It Cost?
The cost associated with individual plans varies based on what you choose. You have the option to stick with a basic programs that entail two major meals a day whether it is a breakfast-dinner or lunch-dinner program with a rate as low as $32.99 per day. You can also order a basic plan for all meals of the day starting at $46.99 per day.
Healthy Chef Creations Coupon Codes
Note: Some coupon sites offer a 20% off code – It DOES NOT Work! It was a Black Friday deal that has expired.

15% off Your First Order (Best Online Deal!)
Expires: Onging
15% off Your First Order (Best Online Deal!)
Expires: Onging
10% off Your First Order
Expires: Onging
10% off Your First Order
Expires: Onging
$25 off Entire First order
Expires: Ongoing
$25 off Entire First order
Expires: Ongoing
Additional 15% off Your Next Purchase
Expires: Ongoing
Additional 15% off Your Next Purchase
Expires: Ongoing
A Final Word
The exciting thing about Healthy Chef Creations is that it is a service that provides you with many great options for enjoying food. You will benefit from the great foods that Healthy Chef Creations offers as everything is full prepared and are fresh for your life. The foods especially stand out as healthy options that do more for your weight loss demands or for regulating a healthy body. Make sure you look at what makes the foods from this group appealing for your weight loss requirements.