How the South Beach Diet Works
There are three phases of South Beach Diet which has proven to accelerate weight loss:
Phase 1: This is known as the one-week body reboot. To start the diet, gluten-free foods that contain lean proteins and healthy fats (like nuts and avocados) are delivered to you. With this high protein, low carb 7-day diet, your hunger will be satisfied without all those starchy and sugary foods your body sometimes craves. You'll get a week's worth of meals (breakfasts, lunches, dinners, shakes and snacks) all deliciously crafted to reset your body and prepare you for phase 2.
Phase 2: Here is where the steady weight loss happens. The foods you ate during Phase 1 will cause your body to react differently to foods that make you overweight, so you'll have fewer cravings for them. You'll continue to eat healthy fats and proteins, but more foods are also added to the mix like fruits, vegetables and whole grains. While your weight continues to come off throughout this phase, you can help shape your new body by adding activity into your daily or weekly routine. It's recommended to stay in this phase until you reach your desired weight.
Phase 3: During this phase you'll be able to enjoy all foods in moderation. At this point, you will have followed all the South Beach Diet's principles and understand how to maintain a healthy weight. This phase will essentially last the rest of your life and keep you looking and feeling your absolute best.
South Beach Diet Meal Plans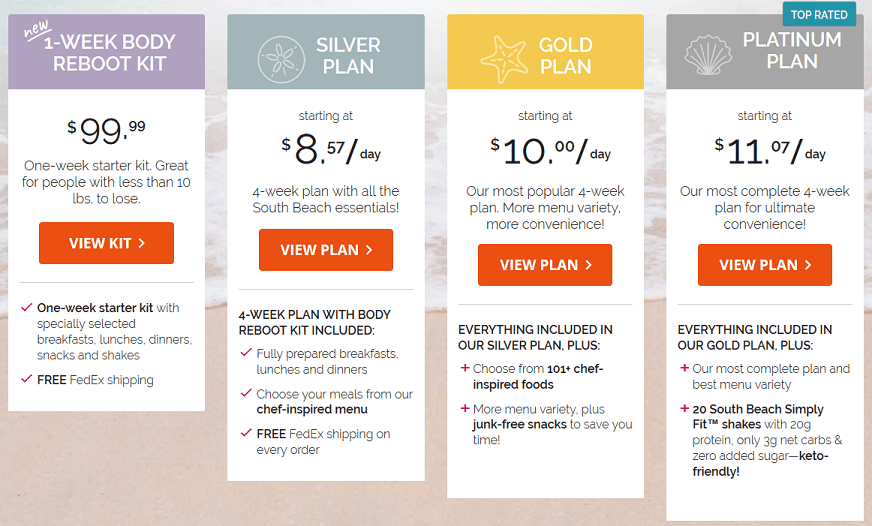 Silver: This is South Beach Diet's most inexpensive plan. Starting at $9.56 a day, you'll get a 4-week plan with a Body Reboot Kit, which includes all South Beach Diet's fully prepared breakfasts, lunches and dinners
Gold: This is the most popular plan, but a little more expensive. Starting at $10.88 a day, you still get the 4-week plan which includes the Body Reboot Kit and all meals, but you'll get to choose from over 100 chef-inspired foods (junk-free snacks included). With this plan, you'll have more meals to choose from.
Platinum: The most expensive plan, but with the most variety. This plan starts at $11.87 a day and is the most convenient and offers a better menu. In addition to breakfast, lunch and dinner, you'll get junk-free snacks and 20 South Beach Diet Simply Fit shakes. The shakes contain 20g of protein, 3g net carbs, making it keto-friendly – a bonus.
Diabetes Gold: This is designed to help people with type 2 Diabetes manage their weight loss. You get everything that comes with the regular Gold package, but the meals are specifically designed for those who live with diabetes.
Keto: This weight loss approach consists of a low-carb and high-fat dietary plan that is consistent with a ketogenic diet. With this plan, you should expect to eat food that is high in good fats and lean proteins, and low in carbohydrates. This plan also offers a variety of keto-friendly meal options in addition to snacks and shakes.
Current South Beach Diet Promotions
45% OFF + FREE Shakes + FREE FedEx Shipping!
Expires: Limited Time Only
45% OFF + FREE Shakes + FREE FedEx Shipping!
Expires: Limited Time Only
Join FREE + Get $100 in FREE Food!
Expires: Limited Time Only
Join FREE + Get $100 in FREE Food!
Expires: Limited Time Only
Free Tote Bag after Sign-Up!
Expires: Limited Time Only
Free Tote Bag after Sign-Up!
Expires: Limited Time Only
What to Expect From all South Beach Diet Plans
Each diet plan contains the right mix of nutrients to help you lose weight without feeling hungry. Eating smaller meals more frequently throughout the day promotes faster weight loss and keeps you feeling good. With all South Beach Diet's 4-week meal plans, expect to eat up to 6 times a day. Enjoy eating high-protein and low-carb meals from fruits, vegetables, meats and whole grains. During the different phases, you'll boost your metabolism, burn fat and lose weight, and still feel full.
The South Beach Diet is easy to follow. All plans come with guidance and tips to help you achieve weight loss, and they each have a variety of delicious, fully prepared meals to choose from. All South Beach Diet packages are delivered to your door. They also offer free FedEx shipping for every order.
What Types of Foods Should I Expect to Eat on the South Beach Diet?
Breakfast: South Beach Diet offers a variety of nutritional and delicious breakfast foods. Choose from egg and turkey/sausage sandwiches, high-protein pancakes, banana nut and blueberry muffins, vegetable omelets, nut bars and fruit and oatmeal bites.
Lunch & Dinner: The lunch and dinner menu contain the same variety of foods to choose from. In both menus, you'll find vegetable stuffed chicken breasts, beef and rice, margherita pizza, salads, flatbreads, chocolate, vanilla and cinnamon "entrée bars", shakes, and zesty soups.
Snacks: Whether you like sweet or savory snacks, South Beach Diet offers an extensive list of both. Choose from parmesean cheese crisps, nuts, butter flavored popcorn, chocolate peanut butter bars, salt & vinegar multigrain chips, sweet & tangy meat sticks, cheese puffs and pretzels.

Does the South Beach Diet work?
There are over 11 million people who have chosen to follow the South Beach Diet. That staggering number alone validates the success of the South Beach Diet program. However, there are many success stories from real customers who have lost weight with South Beach Diet. They have an entire page on their website that is dedicated to showing real customer reviews and photos that prove how well the plan worked for them. Of course, each person is unique, so the program will affect everyone differently. There are people who have lost 16 lbs. with the South Beach Diet, and there are some who have lost 50+.
A study was conducted on average weight loss from the South Beach Diet. It was found that an average of 7.08 lbs. was lost in the first 2 weeks. If you follow the meal plan as instructed, you can expect to lose an average of 1-2 lbs. a week.
How Can I Find More Information on the South Beach Diet?
Visit the links below for more information on the South Beach Diet:
https://www.southbeachdiet.com/how-it-works/index.jsp
https://www.southbeachdiet.com/diet/shop-plans.jsp
https://www.southbeachdiet.com/catalog/food.jsp
https://www.southbeachdiet.com/success-stories/index.jsp