The Nutrisystem 2 for 1 BOGO Sale Is On!
NOTE: Unfortunately the 2 for 1 Offer has ended.  However, you can still get 50% off All Plans + Free Shipping, simply click the links below:
For a limited time only, you can save 50% when you choose to pay for two shipments now, or save 50% when you pay for three shipments now! To activate your offer, simply edit your delivery type and choose the option you want before you check out. You'll also have the option to add shakes to your order. The 50% off is automatically applied when you add shakes!. Nutrisystem is touting this as their year end sale for the winter season of 2020.
Millions of individuals are fulfilling their New Year's resolution of losing weight by purchasing a Nutrisystem plan.   If you would like to take advantage of this limited time offer, simply click the link below.
NUTRISYSTEM 2 FOR 1 OFFER – NOW 50% OFF

You will then be redirected to the special landing page as shown below: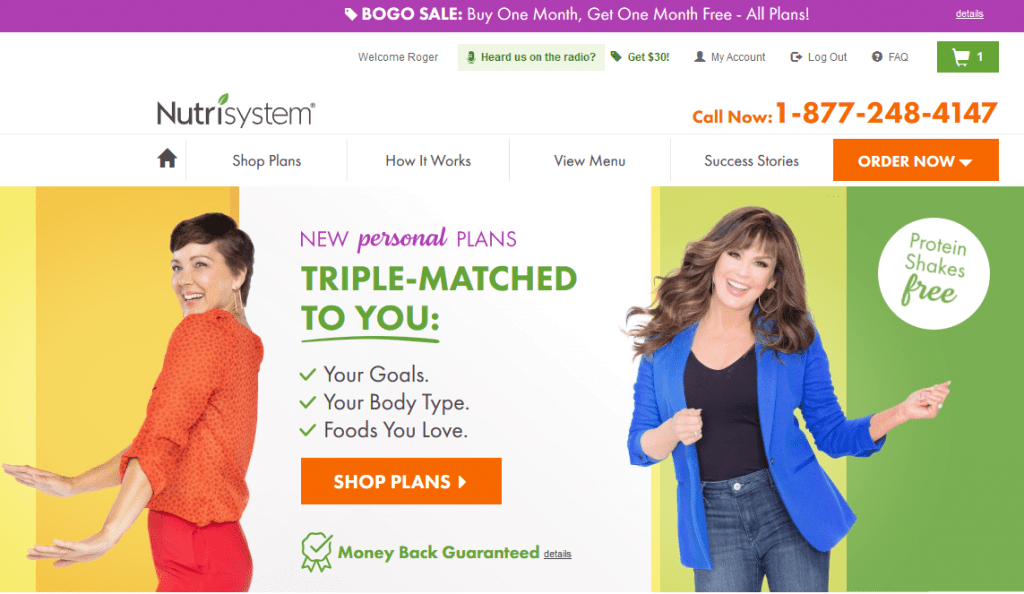 Please note, this promotion is automatically applied at checkout so there is no need to enter a coupon code anywhere.
If you are looking for additional Nutrisystem deals or coupons, please visit our Nutrisystem Promo Code Page. Or if you want something more Keto-friendly, why not try out South Beach Diet which is very similar in meals as Nutrisystem plans.
Nutrisystem 2 For 1 Cost
So how much will the 2 for 1 deal cost me and how much will I save?
Please consult the chart below which shows all Nutrisystem plans. The lowest price plan will cost $229.99 per month or approximately $8.21 per day. That's not a bad price for a full day's worth of meals. This is for the Women's basic plan. If you purchase this plan, you will get your second month for free, a savings of $229.99! In other words, you are basically purchasing two months of Nutrisystem at half the price. This beats out their former promotion which was 50% off your first month.
Basic
Uniquely
Yours
Uniquely
Yours Ultimate
Vegetarian
Basic
Diabetes
Uniquely Yours Diabetes
Ultimate Diabetes
Women's
$229.99
$279.99
$339.99
$279.99
$229.99
$279.99
$339.99
Women's $/Day
$8.21
$10.00
$12.14
$10.00
$8.21
$10.00
$12.14
Men's
$269.99
$319.99
$379.99
$319.99
$269.99
$319.99
$379.99
Men's $/Day
$9.64
$11.43
$13.57
$11.43
$9.64
$11.43
$13.57

Frequently Asked Questions(FAQ) on Nutrisystem 2 for 1
Q: How much does Nutrisystem 2 for 1 cost?
The least expensive plan is $230. Other plans are as much as $380.
Q: Does Nutrisystem have other promotions?
Usually Nutrisystem offers 45% off their plans. This has been paused during their BOGO event.
Q: Will I lose weight on Nutrisystem?
If you stick to their plan and don't cheat, many people have seen great success with losing weight.
For more information on all the Nutrisystem plans, please visit our Nutrisystem Review Page.