Please Note: FRESHOLOGY IS NOW DIET-TO-GO
In 2016, Freshology was purchased by Diet-to-Go.
Please Click Here for more information on the Diet-to-Go Diet Delivery Program!
Freshology Review
The Freshology Get Slim program is designed to help its participants learn about what they can do in order to eat right and lose weight. The program works by offering a series of fine gourmet foods that can be easily prepared in the comfort of one's home. These foods can be quickly heated with ease to make them ready.
How the Freshology Frozen Diet Works
The Freshology Frozen Diet is a popular concept that uses many steps. First, a customer can choose a series of meals within the program. These include meals for breakfast, lunch and dinner. These all come with the best-quality ingredients and all sorts of enjoyable flavors to make them easy to consume.
The foods that are available during the day include many intriguing options: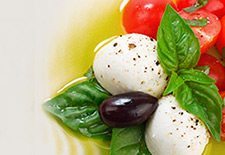 Breakfasts can include all sorts of egg, pancake and French toast options. For instance, there's an almond-crusted French toast breakfast in the program with a fruit salad and chicken mango sausage among the options to try out.
Lunches include many easy to enjoy salads and other light meals. One example is a pear and Gorgonzola pizza complete with a grilled vegetable salad.
Dinners are designed with fully detailed main dishes and plenty of good sides. An example of what's open for dinner is the smoked paprika chicken breast complete with black orzo and an almond garlic sauce.
Desserts include many types of cheesecakes, cobblers and cookies.
Snacks can also be enjoyed during the day. These include healthy snacks like a teriyaki chicken tender with wild rice.
All foods are delivered in a cooler bag that contains all the meals for a week. After enjoying the meals, the user can leave the empty bag and any ice packs it comes with at one's door so it can be picked up and replaced with a new delivery of food if desired.
All foods are delivered on Mondays and Wednesdays through FedEx. Also, customers have the option to customize their orders as needed.
Freshology Programs
Freshology has a number of different weight loss programs for interested customers to explore:
Freshology Gold Program – Offers a healthy living solution for those who are looking for a way to lose weight. This offers a 28-day menu that offers full protein customization. A participant will get two to four days of meals in this plan at a time and a full option to adjust different food plans as needed. Customers can choose whatever proteins they want to stick with while on this program.
Edge Program – High-protein and low-carb meals are used to adjust and boost the body's metabolic processes. This program entails the user working with the first portion entailing high proteins and few carbs with the second portion focusing on whole grains and healthy carbs. It can be adjusted with the option to remove salmon, shellfish and red meat if needed. The key about this particular program is to encourage faster weight loss.
Fresh Mommy Program – A post-natal nutrition program that entails lean proteins. It works especially for nursing mothers who need 500 calories added to their diets each day while maintaining a healthy balance of nutrients in one's body.
Gluten Free Program – A gluten-free option that features low amounts of sugar and salt as well as plenty of natural fruits and vegetables. It especially entails healthy gluten-free grains to promote a healthy metabolic rate and digestive system. It is a popular option for those who are looking to avoid gluten as well as those who have gluten sensitivity issues.
Many special customization options may also be available:
Meals can be adjusted to include more or fewer proteins as needed.
Vegetarian or pescatarian programs may also be entered into. A customer will have to order this by phone in order to qualify.
Customers can choose to get desserts in accordance with what they prefer.
Freshology vs. Bistro MD
Freshology can be easily compared with Bistro MD in that this program also works with the intention of helping people to lose weight through meals that can be easily heated up and prepared at home. However, Freshology is a different option that is worth taking a closer look at.
One big point about the foods that Freshology has to offer is that there are better organized than what Bistro MD has to offer. That is, Freshology's foods seem to be well-designed and the foods seem to be easily distinguishable. The foods can be easy to consume and will not be too hard on a typical body as they are to be consumed.
The meals on both programs are carefully portioned and designed to be filling. However, Freshology tends to place more of an even weight on the individual points that come with the meals that it offers. For instance, the side of rice that can come with a Freshology meal will actually be of a decent size and is not going to be all that hard for anyone to consume. In addition, the portions that Freshology have to offer are well-divided.
Still, it is important to note that Freshology costs quite a bit of money. It costs about twice as what it costs to get into the Bistro MD program. More information on the cost of Freshology's program will be addressed in just a bit.
Freshology Meal Preparation
There are many good points that need to be explored with regards to preparing foods in the Freshology program:
The foods can be heated right through a traditional microwave. However, the timing for what to do when heating the foods will vary based on the type of food that is being consumed.
Some meals will contain sauces. These are typically going to be heated with the rest of the meal although each individual meal will have its own standards with regards to how to prepare the sauces.
It is best to eat all meals that are available for a given day. If a person is unable to have a meal or skips a meal then it is best to stick with getting back on schedule the next day if possible.
Supplements may be used while on the program. Freshology particularly recommends that people use omega-3 fish oil supplements to go with their programs. However, it is best to be careful and to look for supplements that feature organic or vegan ingredients that will not interact with any healthy nutrients. Also, all participants should talk with the doctors before they decide to stick with any of these supplements while on the plan.
Seasonings may be added to meals provided that they are organic and do not contain any additives or artificial preservatives. This is again to ensure that all foods are preserved the right way.
If there is ever a problem with a food that has been delivered then the customer can always ask to get the problem resolved by contacting Freshology's customer service line at 1-877-516-7031. Freshology will typically get a proper replacement ready in as little time as possible.
These points are designed to ensure that customers know what to expect out of the Freshology program. It helps people to see what is open and to give them a little more control over their dietary plans when it comes to finding ways to lose weight and keep it off.
Freshology Delivery
There are a few critical aspects of the program that also relate heavily to the way how the delivery process is to work:
Freshology can send foods to any location in the continental United States. If a participant is traveling then that person can send details on where one will be with at least one week's notice of traveling.
A weatherproof cooler will be stored next to one's door as the food is dropped off. This is to ensure that the food will be made available as soon as possible. However, it is best for a participant to ensure that the food is picked up and brought into one's house in as little time as possible so there will be no problems with the food being out for too long.
FedEx is responsible for taking care of all the shipments. If the participant is not at home then the FedEx delivery party will drop off the shipment at one's door and will not require a signature to make it work.
Freshology does not support PO box deliveries. This is in accordance with the standards that FedEx uses for its deliveries.
All deliveries are designed to be packaged properly and with enough materials to keep the foods cool for as long as possible. Customers are advised to be fully observant when their shipments come out to ensure that they will be able to get their foods at the right times without risking those foods potentially overheating or wearing out as a result of certain foods not being ready for use.
How to Pay for the Freshology Program
Freshology has a number of charges for people to be aware of when it comes to getting into the program. It will cost as low as $47.95 per day to get into the Freshology program. Meanwhile, it will cost up to $54.95 per day for the Edge and Gluten-Free programs. It is also $49.95 per day to get into the Fresh Mommy program. Enter here for easy access for ordering today.
The program must be paid for at least seven days before a delivery is to take place. Also, Freshology only accepts the MasterCard, Visa and American Express credit cards for payment purposes.
Renewing the Freshology Program
The renewal process for the Freshology program works in that a participant will have to choose on one's own to either renew the program or to get back on it at a later date. There are no auto-renewal options in this program.
A participant can get an email reminder near the end of the program. The customer will then have a full choice to determine if the program should be continued or if it should be stopped. This allows the customer to have a little more control over one's experience while looking to lose weight.
What Freshology Locations Are There?
There are some Freshology locations that are also available to help people get their products picked up as needed. These locations are primarily found in many parts of California including the San Francisco and Los Angeles areas. Freshology is hoping to expand its delivery footprint in the near future with a series of new locations for its products to be brought out in. Customers will need to take a closer look at what's open on the Freshology website on occasion to see what is around.
Conclusion
All people who are interested in finding ways to lose weight need to see how the Freshology program works. This is a program that has been properly designed with the intention of helping participants to lose weight and keep it off with ease. It just might be one of the best programs that anyone could ever potentially get into when it comes to losing weight and keeping it all off for as long as possible.